Get ready for the poshest (and most fun!) international Scout camp in the UK… Join the British Scouting Overseas (BSO) Contingent at Wings 2020, 24th July to 31st July 2021 for 7-days packed full of fun, freedom, and adventure next door to the Queen's house in Windsor, UK. There will be an exciting program of activities including climbing, archery, caving and getting to know other young people from more than twenty countries.
BSO have had 3 fantastically successful years of taking our Scouts and Explorers from all 4 Districts of BSO Area, all over the world in fact, to Poacher 2017, Chamboree 2018 and Haarlem Jamborette 2019!
If you are interested in taking part, please leave your email address and we will be sending out registration information later in the year.
Wings 2021 Blog
Members of British Scouting Overseas (BSO)  are attending Wings 2021 along with more than 6,000 Guides and Scouts from around the world.
This camp follows on from our previous fantastic BSO camps at Poacher 2017 (Lincolnshire), Chamboree 2018 (Cheshire) and Haarlem 2019 (Holland). At the end of Chamboree 2018, our members voted overwhelmingly to attend WINGS 2021 because of the awesome programme and how easy it is to get there from overseas. This camp will very likely be the biggest and best camp we've ever attended and we are expecting a record number of BSO campers!
What is WINGS 2021?
WINGS is a special international jamboree for Guides and Scouts from all around the world.
It is based in Windsor Great Park which is the Queen's back garden!
In 2014, WINGS hosted 7,000 people from 41 countries.
Anyone attending will have fun, will be challenged, will have adventures and make new lasting friendships
More information on the official website: wings2020.org.uk
Official facebook page: https://www.facebook.com/wings2020/
Where is WINGS 2021?
WINGS is held in the grounds of Windsor Great Park, close to Windsor, Berkshire
Over 4,800 acres with a Royal history spanning over 1,000 years. See historical monuments, ancient forests and stunning horticultural displays, as well as rare wildlife and plants. Website: http://www.windsorgreatpark.co.uk
Google map: https://goo.gl/maps/Q1DsXq9yPx72
When is WINGS 2021?
24th July to 31st July, 2021
Why attend BSO members attending WINGS 2021?
Daytime programme: The programme isn't confirmed but in 2014 Scouts and Explorers enjoyed trying out a huge variety of activities including: abseiling, high ropes, climbing, wet and dry caving, parkour, day hike (and shopping!) in Windsor, mop hockey, bungee trampolines, archery, rifle shooting, circus skills, kayaking, dragon boating, water zorbs, screen-printing, fire-lighting, trek cart racing, cooking, badge-swapping – the list was near endless!!
Throughout the week Scouts and Explorers achieved various tasks and daily challenges that earned them the 'Windsor Award' (which can be worn on their uniforms). They also completed tasks that will count towards the Outdoor Challenge and Global Challenge Award badges.
Evening programme: The evening entertainment in 2014 was varied and spectacular with talent contests as well as mad scientist, pirate and neon themed parties with live DJ's and bands, lasers, mocktails, popcorn and candyfloss!
Please see this short, 4.5 minute Youtube video showing Cardiff Scout's adventures at WINGS 2014: https://www.youtube.com/watch?v=NCMplnDwXmE
Here's some feedback from WINGS 2014:
Loved Wings – Best UK jamboree we've been to (Leader from Devon)
'WINGS was a fantabulous experience – all of us learned a lot from it.' (Scout from Berkshire)
'We had lots of fun and met lots of new people from many different countries.' (Scout from Berkshire)
'We all made friends we will never forget!' (Scout from Berkshire)
'As well as new people there were new experiences and new activities. In each of the zones everyone learnt something different or tried a skill that they had never done before. We all had something to take away with us (including great memories)!' (Scout from Berkshire)
'I liked the experience of meeting new people!' (Scout from Berkshire)
'WINGS 2014 was amazing, I loved it. The activities were amazing.' (Scout from Berkshire)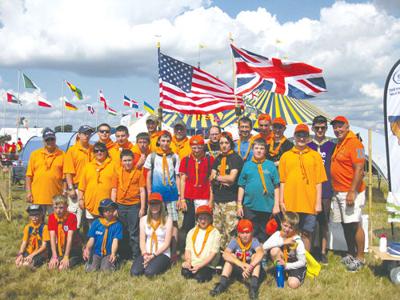 Transport to/from WINGS 2021?
Independent Travel
Parents may drop participants off at the campsite on the afternoon of Saturday 27th July
Windsor train stations
Meet and pickup at the local Windsor & Eton Riverside or Windsor & Eton Central train stations. 10 minutes drive to camp
Heathrow airport
Windsor is only 20 minutes drive to Windsor. We will operate a meet and greet at Heathrow Airport for non-accompanied Scouts/Explorers
How much is WINGS 2021?
Scouts/Explorers 10-17yrs £325
Leader / Adult (18yrs +) £100
Young Leader (14-17yrs) £100
All fees include food and activities.
Leader and Young leader costs does not include activities. Any Leader or Young Leader wishing to take part in the activities will have to pay the Full Participant Fee.